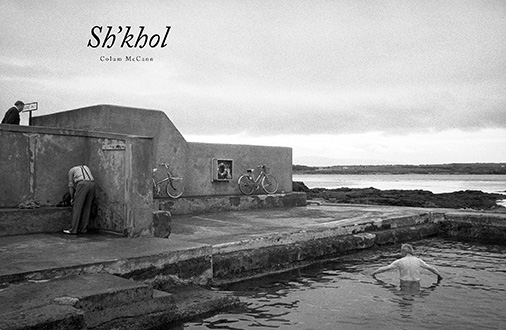 It was their first Christmas in Galway together, mother and son. The cottage was hidden alongside the Atlantic, blue-windowed, slate-roofed, tucked near a grove of sycamore trees. The branches were bent inland by the wind. White spindrift blew up from the sea, landing softly on the tall hedges in the back garden.
During the day Rebecca could hear the rhythmic approach and fall of the waves against the shore. At night the sounds seemed to double.
Even in the wet chill of the December evenings, she slept with her window open, listening to the roll of the water sweeping up from the low cliffs, rasping over the run of stone walls, toward the house, where it seemed to pause, hover a moment, then break.

On Christmas morning she left his present on the fireplace, by the small tree. Boxed and wrapped and tied with red ribbons. Tomas tore the package open, and it fell in a bundle at his feet. He had no idea what it was at first: he held it by the legs, then the waist, turned it upside down, clutched it dark against his chest.
She reached behind the tree and removed a second package: neoprene boots and a hood. Tomas stripped his shoes and shirt: he was thin, strong, pale. When he tore off his trousers, she glanced away.
The wetsuit was liquid around him: she had bought it two sizes too big so he could grow into it. He spread his arms wide and whirled around the room: she hadn't seen him so happy in months.
She gestured to him that they would go down to the water in a few hours.

Thirteen years old and there was already a whole history written in him. She had adopted him from Vladivostok at the age of six. On her visit to the orphanage, she had seen him crouched beneath a swing set. His hair was blond, his eyes a pellucid blue. Sores on his neck. Long, thin scars on his lower back. His gums soft and bloody. He had been born deaf, but when she called out his name he had turned quickly toward her: a sign, she was sure of it.


To read the rest of this story, and others from the Fall 2014 issue, please purchase a copy from our
online store
.