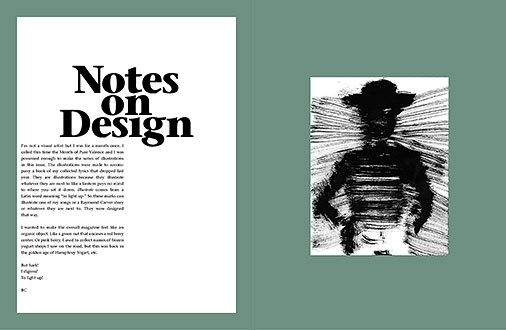 I'm not a visual artist but I was for a month once. I called this time the Month of Pure Valence and I was possessed enough to make the series of illustrations in this issue. The illustrations were made to accompany a book of my collected lyrics that dropped last year. They are illustrations because they illustrate whatever they are next to like a lantern pays no mind to where you set it down. Illustrate comes from a Latin word meaning "to light up." So these marks can illustrate one of my songs or a Raymond Carver story or whatever they are next to. They were designed that way.

I wanted to make the overall magazine feel like an organic object. Like a green nut that encases a red berry center. Or pink berry. I used to collect names of frozen yogurt shops I saw on the road, but this was back in the golden age of Humphrey Yogart, etc.

But hark!
I digress!
To light up!


To view Bill Callahan's design of the Winter 2014/2015 issue, please purchase a copy from our
online store
.