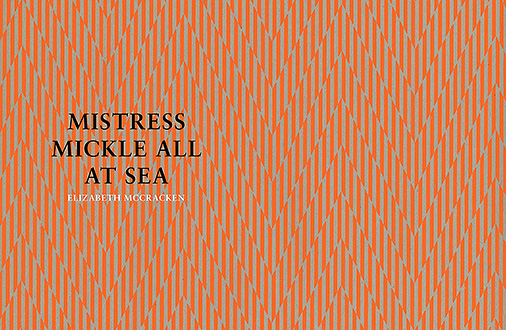 New Year's Eve in a Rotterdam garret, the whole block blacked out, bottle rockets rattling the casements: Mistress Mickle, villainess of the children's game show Barnaby Grudge, off duty and far from home, ate a cold canned hot dog in the dark and pronounced it delicious. These were the last minutes of the old year. She'd come from Surrey to visit her half brother, Jonas, whom she'd last seen in Boston just before their father had retired to Minorca. Expatriation was the family disease, hereditary: thanks to an immigrant ancestor, they all had Irish passports. The world was their oyster. An oyster was not enough to sustain anyone.
"This happen off–ten?" she asked. "Blackouts, I mean."
"Off-ten?" he mimicked, then he said, "Nah. I don't know what's going on." His Boston accent was thick as ever, but years in England had bent her diction, and she couldn't decide which of them should feel superior. The blackout was in its third hour. She'd hated the darkness at first, but now it had gone on long enough it would be the story of the evening, and so was essential. Let the New Year arrive unelectrified, she thought, lit only by pyrotechnics.
The Dutch did not wait till midnight to celebrate. Through the enamel tabletop the siblings felt the detonations of fireworks, explosion after explosion overhead. Life in wartime, if you knew nobody was dying, probably, and the privation would end by morning. She jumped at every salvo. She was a nervous woman. When Jonas fished out a joint, she didn't turn him down, though it had been decades. Maybe it would calm her. Last year she would have had a drink, but she didn't drink anymore. She was forty–nine, which didn't surprise her; Jonas was thirty–nine, a shock. He had long, insufficient blond hair he was trying to drum up into dreadlocks and a thick, dark beard he'd trimmed to round perfection. Why couldn't he take care of anything else so well? He was a fuckup. He said so himself. It was as though fucking up were his religion, and he was always looking for a more authentic experience of it: bankrupted by Scientology, busted for selling a stolen antique lamp, fired from an Alaskan cannery for filching salmon, beaten up by a drug dealer—that is, a ham–headed college kid who dealt ecstasy but took only steroids himself. For the past six months, Jonas had lived in this garret, renting the space beneath an Irishwoman's kitchen table, with access to her stove and sink and toilet and, occasionally, herself. The Irishwoman had gone back to Kilkenny, would return tomorrow. Tonight her bed would be occupied by Mistress Mickle. The Irishwoman must never hear of this. Jonas's pallet was still spread out under the table at which they now sat, his pillow at Mistress Mickle's feet.
At eleven thirty the lights came back on.
"Oh good," said Jonas.
"A shame," said Mistress Mickle.
Jonas shrugged. He was a lifelong shrugger. It was the genuflection of the devout fuckup. "Let's go to the street," he said. "Midnight will blow your mind."
To read the rest of this story, and others from the Winter 2015/2016 issue, please purchase a copy from our
online store
.