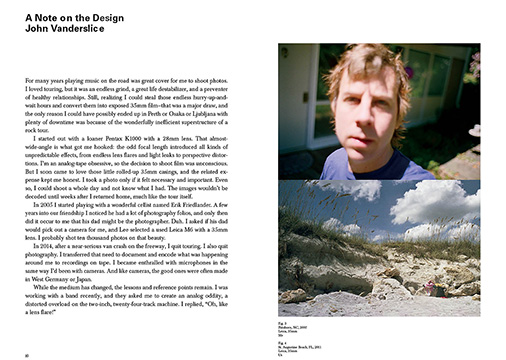 For many years playing music on the road was great cover for me to shoot photos. I loved touring, but it was an endless grind, a great life destabilizer, and a preventer of healthy relationships. Still, realizing I could steal those endless hurry–up–and–wait hours and convert them into exposed 35mm film—that was a major draw, and the only reason I could have possibly ended up in Perth or Osaka or Ljubljana with plenty of downtime was because of the wonderfully inefficient superstructure of a rock tour.
I started out with a loaner Pentax K1000 with a 28mm lens. That almost–wide–angle is what got me hooked: the odd focal length introduced all kinds of unpredictable effects, from endless lens flares and light leaks to perspective distortions. I'm an analog-tape obsessive, so the decision to shoot film was unconscious. But I soon came to love those little rolled–up 35mm casings, and the related expense kept me honest. I took a photo only if it felt necessary and important. Even so, I could shoot a whole day and not know what I had. The images wouldn't be decoded until weeks after I returned home, much like the tour itself.
In 2005 I started playing with a wonderful cellist named Erik Friedlander. A few years into our friendship I noticed he had a lot of photography folios, and only then did it occur to me that his dad might be the photographer. Duh. I asked if his dad would pick out a camera for me, and Lee selected a used Leica M6 with a 35mm lens. I probably shot ten thousand photos on that beauty. 
In 2014, after a near–serious van crash on the freeway, I quit touring. I also quit photography. I transferred that need to document and encode what was happening around me to recordings on tape. I became enthralled with microphones in the same way I'd been with cameras. And like cameras, the good ones were often made in West Germany or Japan.
While the medium has changed, the lessons and reference points remain. I was working with a band recently, and they asked me to create an analog oddity, a distorted overload on the two–inch, twenty–four–track machine. I replied, "Oh, like a lens flare!"

To read the rest of this story, and others from the Spring 2016 issue, please purchase a copy from our
online store
.