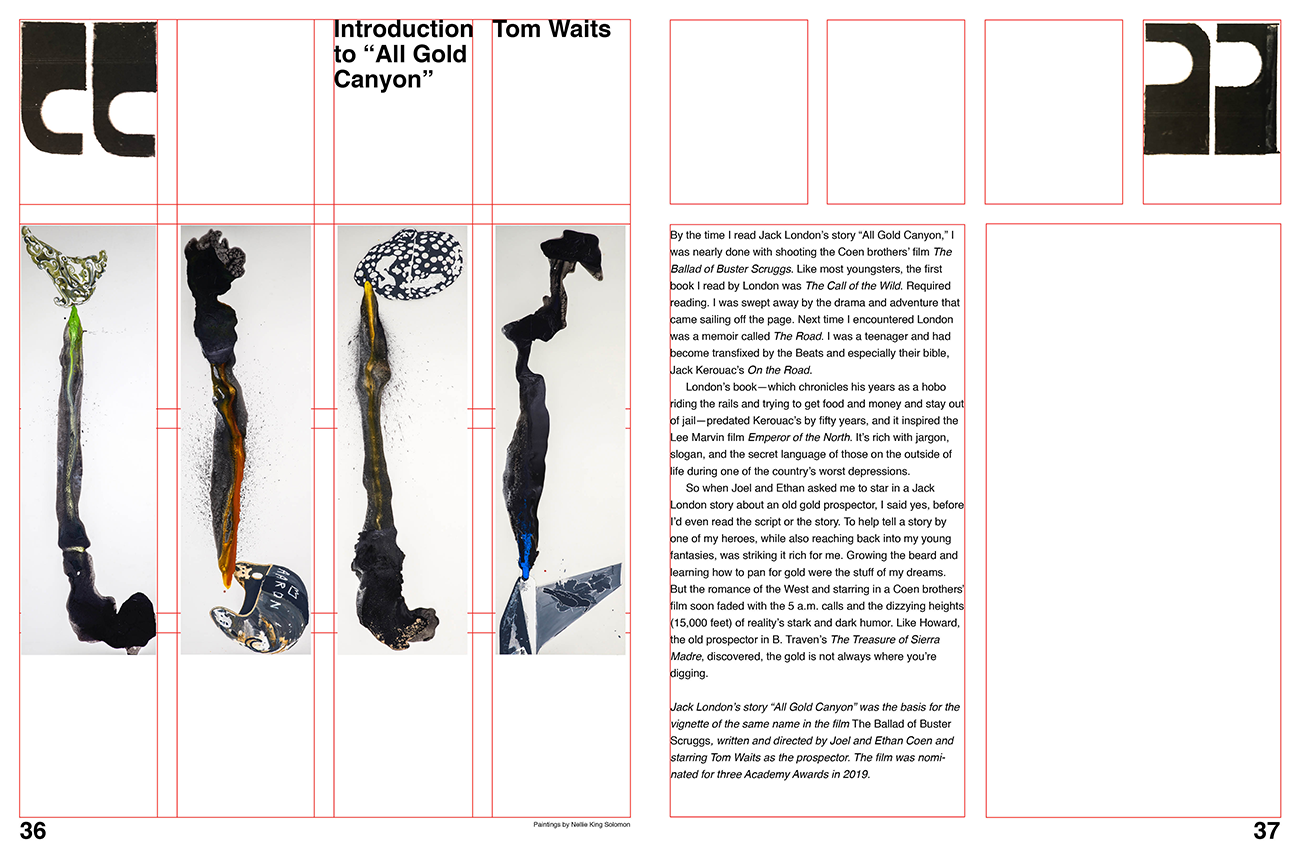 Introduction to "All Gold Canyon"
By the time I read Jack London's story "All Gold Canyon," I was nearly done with shooting the Coen brothers' film The Ballad of Buster Scruggs. Like most youngsters, the first book I read by London was The Call of the Wild. Required reading. I was swept away by the drama and adventure that came sailing off the page. Next time I encountered London was a memoir called The Road. I was a teenager and had become transfixed by the Beats and especially their bible, Jack Kerouac's On the Road.
London's book—which chronicles his years as a hobo riding the rails and trying to get food and money and stay out of jail—predated Kerouac's by fifty years, and it inspired the Lee Marvin film Emperor of the North. It's rich with jargon, slogan, and the secret language of those on the outside of life during one of the country's worst depressions.
So when Joel and Ethan asked me to star in a Jack London story about an old gold prospector, I said yes, before I'd even read the script or the story. To help tell a story by one of my heroes, while also reaching back into my young fantasies, was striking it rich for me. Growing the beard and learning how to pan for gold were the stuff of my dreams. But the romance of the West and starring in a Coen brothers' film soon faded with the 5 a.m. calls and the dizzying heights (15,000 feet) of reality's stark and dark humor. Like Howard, the old prospector in B. Traven's The Treasure of Sierra Madre, discovered, the gold is not always where you're digging.
Jack London's story "All Gold Canyon" was the basis for the vignette of the same name in the film The Ballad of Buster Scruggs, written and directed by Joel and Ethan Coen and starring Tom Waits as the prospector. The film was nominated for three Academy Awards in 2019.