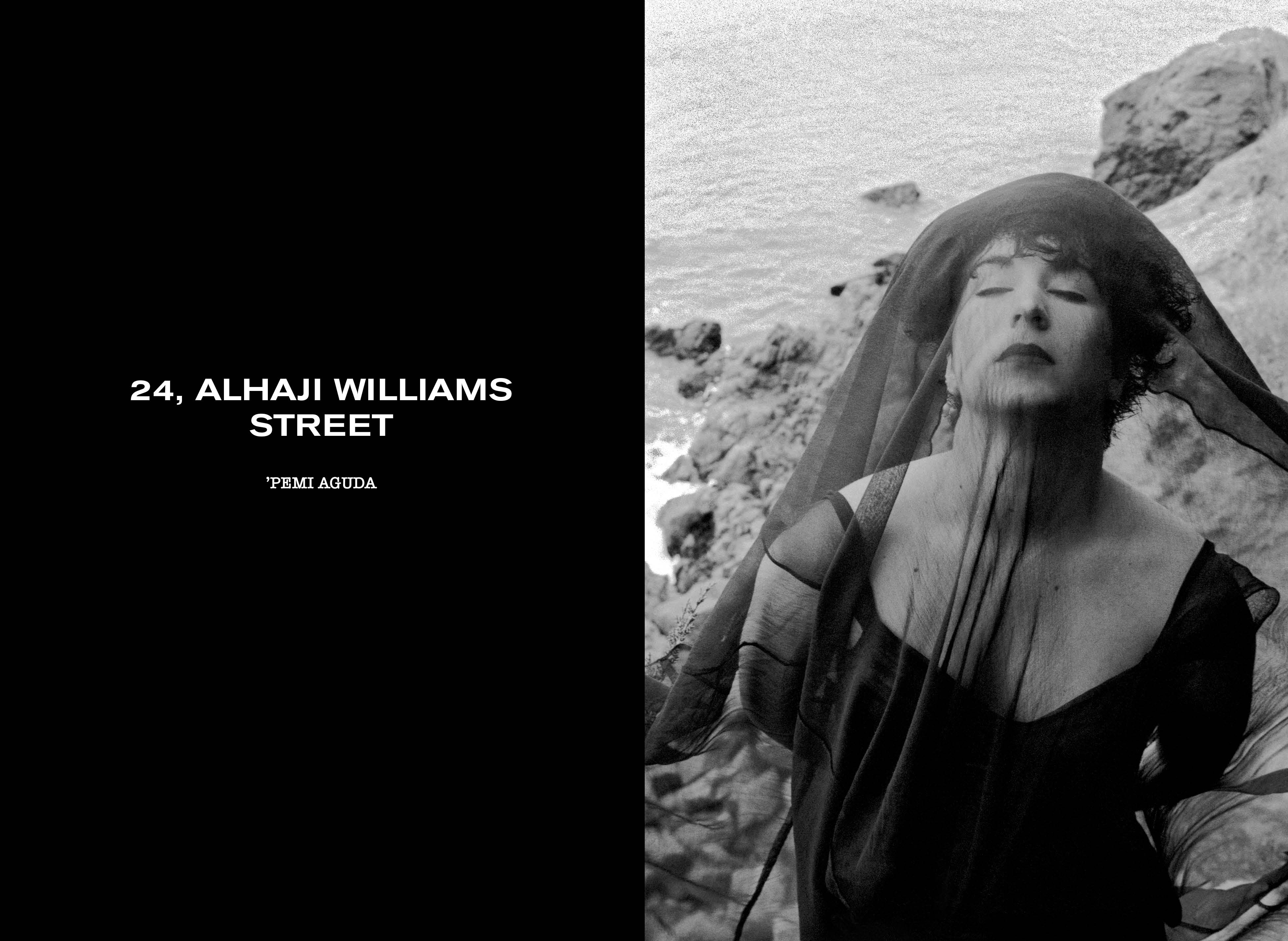 24, Alhaji Williams Street
Alhaji Williams is a very long street. The plots are small, and many hold clusters of flats. So we had enough time to see what was happening before it was our turn. My turn. By the afternoon the fever reached the fourth house, the rest of the street had braced for its arrival.
Ms. Williams owned the first house on the street named for her great-grandfather. They say that the Alhaji had rolled up his buba sleeves and mixed cement and sand along with the bricklayers, that he'd stood behind his architect and stabbed his finger at the blueprint, threatening to deafen with his orders: "No, the entrance should be on this side." "Add another arch here!" "I want that butterfly roof!" Ms. Williams was proud of this history, though maintaining the resulting gutter cost a lot.
Whenever I turned off Aderombi and onto our street, I studied this house—repainted a bright white every Christmas to hide the dust, and topped with red-clay shingles—trying to see the beauty in it. Maybe too many years had passed.
I was the only boy in my family, my mother's last child. Born on this street, bred on this street, I knew every metal gate, I knew the sore-throat horn of Mr. Joro's old Mercedes, I knew that if I walked past the Obozos' at mealtime, their Rottweiler would push its jaws through the gap between wall and gate, barking until I was out of sight. I knew every daughter. I knew every son.
When we learned of Ade's death, my mother tut-tutted. "The poor poor widow," she said. "That poor poor woman." My mother was a widow, too, but that day I understood the difference between a poor widow—my mother—and a poor poor widow: Ms. Williams. A poor poor widow is one who loses her son.
The street came together in mourning. My mother didn't believe children should grieve other children, so everything I heard, I heard from her. She turned amala as she narrated Ms. Williams's anguish. The woman had rolled and rolled on that fine Persian rug in her living room. My mother added water to the amala. The woman had torn at her silk kaftan, yanked at her curly wave, wept until her mascara left black blotches on the beige wool. That poor poor woman.
Ade was Ms. Williams's only child, so the pattern wasn't yet apparent when the fever crossed the street to number 2, Alhaji Williams and took the Emenikes' youngest son. Everyone thought some bug was going around. Maybe it was the illegal refuse dump growing behind the bus stop, attracting dangerous flies. But when the fourth family lost their youngest boy to the fever—the Bellos in number 3—people started whispering.
The Adeyanjus had three sons: Titus, John, and Bartho. Bartho returned from school one Friday with a high temperature and red eyes that teared up when he coughed. It was over by night, his mother blinking at the cooling body in her arms. The Bellos lived above the
Adeyanjus; and during that difficult period, Mrs. Bello brought over pepper soup and jollof rice, so Mrs. Adeyanju wouldn't have to cook. A week later, when Mrs. Bello picked up the empty bowls, her youngest, Michael, was in bed because he, too, had a fever. The next morning, Mrs. Adeyanju sent pepper soup to Mrs. Bello.
"Are you OK?" my mother asked me each morning as I stepped out for JAMB class. I was taking the university entrance exams for the second time.
My older sister stayed with her boyfriend during the week because he lived closer to her office, and because she worried another girl would move in and take her place. "I'm not taking any chances," she would say to our mother, who didn't disagree.
On the weekends she came home, she'd sit at the dining table, tapping gingerly at her computer keys, careful not to unbalance the short leg held up with a flat stone. We often talked about getting a new table, or calling Lekan, the carpenter, but we never did. And during these visits, my mother would sit near the entry and prop open the wooden door to let in the breeze, while the screen kept out the mosquitoes. From a bowl in her lap, she'd string up beads of various sizes and colors on fishing line, between diamonds that could not be real, for her soon-to-be-married clients. I'd lie on the floor, working through practice questions, my belly flush with the cool terrazzo because we had no Persian rug.
Whenever my sister paused, raised her head, we would pause, too, awaiting whatever she had to say.
"Do you think we should move?" she asked after the fourth boy died.
And my mother sighed, returning to her beadwork. "What's the point?" she replied.
It wasn't only her reluctance to leave this decrepit bungalow her husband had died in, or her acknowledgment that we couldn't afford the rent anywhere else. When Mr. and Mrs. Anthony of number 5 knew it was their turn, they moved to Abuja with their five children. Their son died anyway, just on a strange bed. There was no fleeing it.
My sister resumed typing, and I continued my math derivatives, my pen digging too deep into the paper, almost tearing it.
The mothers on the street gathered some nights to mourn, to pre-mourn, to discuss the futility, but most of all, to share old fever remedies.
Mrs. Okocha sprinkled cayenne pepper on everything her son ate—fruits, garri, even ice cream, much to the boy's dismay. But when the fever came, he was dead before sunrise, unable to enjoy the taste of one last, cayenne-free meal.
Madame Rhoda rose every morning to grate baskets of ginger, which she steeped in hot water, then poured down her son's throat. When he passed, she held his head with her shredded fingertips.
Oga Tanko didn't have a wife, so he attended the meetings himself. He tried to freeze the fever away, installing a new air-conditioning unit at every corner. He curled up in bed with his son as the boy shivered. One morning, I saw heaps of broken ACs on the street outside his house, their white carcasses shining bright in the sun.
My mother proposed additional antidotes: boiled basil leaves and honey, vinegar in a lukewarm bath, lemongrass in hot water, raisin juice in hot water, mint, egg whites, turmeric . . . If she didn't have a suggestion before the meeting hour, she'd lean over my shoulder and ask me to ask Google.
By the time flat four at number 11 lost their last son, nobody came together to weep, to light candles, to sing songs that were off-key but so beautiful, drifting down the street on the wind. Instead, they sent text messages—We're sorry for your loss—while watching their own sons, still breathing, waiting. Family silhouettes melded together in the windows, composite black monsters haunting my nighttime strolls.
I stood outside the JAMB center with my friend Junior, who lived at number 15. My father had attended the University of Ibadan, and though his reverent memories of that "great institution" did not reflect the fading campus Junior and I assessed from the back seat of his dad's car, we both filled it in as our first choice. It was Junior's second year of writing the exam, too. He hoped to study economics; I, engineering. But at the center's gate, considering a half-peeled poster announcing the test dates, Junior said, "What's the point?"
I agreed.
We went to a pharmacy and pooled money to buy a thermometer. "What's the normal body temperature?" Junior asked.
I asked Google. "Thirty-seven degrees Celsius."
He raised his T-shirt and stuck the thermometer in his armpit. As we waited, we watched the passing cars. He pulled it out, and we crowded over it, squinting.
"Thirty-seven point two?" he asked.
I leaned in. "Thirty-seven point one." Then it was my turn.
He shook the thermometer, and when I told him to wipe the end on his shirt, we laughed.
I placed the device under my arm, hugging my elbow tightly. I sent a message: Be cool, be cool. And when I pulled it out, a whiff of sweat dissipating in the air between us, Junior read, "Thirty-six point nine." I looked away from the envy he tried to hide.
We shared a joint at the back of Iya Risi's buka, staring at the goats and cooped chickens that would soon be lunch. We argued over which of Brymo's albums was the best, if Klitôris showed a dip in his arc, if he was maybe the Fela of our generation.
"If all your friends were in hell, would you still go to heaven?" Junior asked me.
I blew out smoke. "I don't know, man."
Junior and I sat opposite Ms. Williams's house, on the log of a tree some NEPA people had cut down without asking the street's permission. They said it had been disturbing the power lines. The street looked different without the branches bowing over the sidewalk, weighted down by the fruit we called "fruit." The day the tree was felled, I'd walked right past the corner before realizing it was ours.
"Have you seen Ozzy around?" I asked. My mother had asked me before I'd left the house that morning. He lived at number 14 and was next.
"At all—why?" Junior coughed, and I watched his face before shrugging. He was friendlier with the other boys on the street, so would know what happened before me. I couldn't care less about them; football back in the day was fine, but now I felt awkward in their presence, in their conversations about FIFA or the girls in JAMB class who didn't wear bras. Junior was my only friend. He spoke about these things, too, but it felt different.
"I heard some guys yarning about going away," he said, "as if we didn't all hear together that oyinbo medicine couldn't save Chibuzo."
Chibuzo, the youngest son of the old couple at number 12, had been in America doing his MBA at Columbia. When the call from the New York hospital came at three on a Sunday morning, they were already by the phone, awake and waiting.
Junior wiped his brow, and I reached over to grab his wrist to twist his watch toward me. My real purpose was to check his temperature. His skin was warm in my palm. But maybe it was just the midday sun.
"Ozzy's a big guy," he said.
The last time I'd seen Ozzy, he'd been lifting weights in Bolu's backyard, like always, and I couldn't tell if Junior meant that Ozzy would take care of himself, or that he'd die with new muscles, strained and flexed and defiant.
Harmattan arrived a month after Chibuzo's passing, coating Alhaji Williams Street with layers of dust. The dust remained untouched this year, no please wash me scrawls on car windows, no children dragging sticks, few footprints.
Junior and I still left the street every morning, though not for the JAMB center. And every morning, I'd squint at his chapped lips, gauge the redness of his eyes.
The longest period between deaths had been three months—three months in which a fragile hope bloomed.
"Should I roll?" I asked.
Junior shook his head, but I shrugged it off. I understood.
"So what do you want to do?"
He kept kicking his Air Force Ones in the dust without looking up.
"What's up, man?"
Then he leaned in and hugged me. I felt his wetness on my neck.
My mother came to lie in bed with me. She smelled of Irish Spring and akara. "Se Bo'timo" played from my speakers.
"Baby," she whispered.
"Is he dead?"
I felt her nod in the dark.
I let out what began as a sigh and ended as something else. "He knew," I said around the scratchiness in my throat.
She leaned closer and stroked my head.
After Junior's death, I'd stare at the same page of my practice book for hours on end, my eyes bloodshot and itchy from the dry winds of harmattan and the tears I wouldn't cry. There was nobody to nudge in laughter, nobody to tease about shoddily wrapped joints, no Junior to just walk beside—in silence, in solidarity. All these undoable and unsayable things weighed me down so that I felt like one of Fela's zombies.
Over her bowl of beads, my mother watched me. Then she went from door to door, trying to convince the people of Alhaji Williams Street to resume the vigils, to show up for the meetings.
"These losses are both personal and communal," I heard her telling Mr. Francis when he came to return her empty Tupperware. His wife had shaved her head and now wore only black. "We need to hold each other in these times. We need to come together. Now more than ever."
That night, the street came together under a full moon that blessed our tipped and mourning heads. My mother allowed me to accompany her. "You're no longer a child," she said, pressing her lips to my hairless chest.
We stood, we knelt, we sat, we leaned against cars, taking the grime onto our clothes. We held hands and sang. My mother raised a Yoruba song, a familiar tune she'd begun to hum around the house.
When you see the kob antelope on the way to the river—
Leave your arrows in the quiver,
And let the dead depart in peace.
The men cried and the women wept and my mother leaned all of her weight against me.
My mother made me slice open the neck of a chicken and sprinkle the blood on our front door. I held its wings together, then placed my slippered foot on its head. The bird heaved and struggled under me as I sawed. When it stilled, my eyes misted.
This was the newest thing on the street: bloodstains on the gates and doors of the untouched houses. Maybe the fever would pass over, like it did the children of Israel.
I heard from Laolu, a boy at number 31, that it had been my unreligious mother's idea. As we bought eggs and sardines from the mallam, he recounted his mother's report that my mother had made a speech at one of the neighborhood meetings, quoting the Bible. My family went to church at Christmas and at Easter, but after my father's death, even those days were not certain.
I avoided the front door. The smell disturbed me, and it had started attracting flies. I went around the house and entered through the kitchen.
"No, you have to go through the door," my mother insisted. "You have to go through the door!"
But after Tolulope of number 17 succumbed, she poured a bucket of water and scrubbed the blood off.
My aunt came to visit, bringing huge bundles of unripe plantains. It felt like a goodbye. At number 21, the littlest Adejo boy was burning in his mother's arms.
My mother and aunt sat in the kitchen, picking beans. My aunt was older by ten years and very resourceful. She'd introduced my mother to my father, arranged my sister's first job, secured me a personal room in the general hospital—a feat—that year I broke my leg playing football.
I walked in, and they fell silent, their fingers busy but their eyes on me as I moved from the sink to the cupboard, drinking water, taking a handful of groundnuts from the bowl. I left to wander the empty street, perhaps hoping that by escaping their stares I could escape their worries, too.
When I returned that night, my aunt summoned me to the living room. She was knitting some huge thing, stripes of different colors, my mother asleep beside her. "How old are you now?" she asked me.
"Seventeen," I said.
She eyed me, head to toe, then flicked her wrist for me to go.
I had dreams of hellfire. I think it was hellfire. It burned the University of Ibadan, the one legacy I'd hoped to continue on for my father. It burned my fantasies of ever seeing Brymo in concert, or of watching my sister finally marry her boyfriend. And sometimes, from the inferno, Junior would call out to me.
I'd wake up from these dreams, stick the thermometer in my armpit, and stare at the numbers—36.9, 37.2, 37.3, 36.9, 37.1—until they blurred into black smudges and I drifted back to unconsciousness.
For the JAMB exam, we were required to bring photocopies of our forms and receipts. I piled all my documents in the backyard and set them aflame.
Mrs. Fafunwa of flat two at number 22 had only daughters. She wasn't alone in this situation, but she was the most vocally grateful about it.
She would go to the pharmacy and announce her need for Nixoderm, teasing the girls for their touches of eczema, reveling in the other parents' envy. After Sunday lunch, the four of them took long strolls along the street, talking about the future, when the first one would get married, when the second would give her grandchildren, when the third would buy her a new car. The girls would giggle, hug, lay their heads momentarily on their mother's breasts.
When they encountered their neighbors, subdued from a recent or imminent loss, Mrs. Fafunwa would respond brightly, asking if all was well at home, tucking a braid behind a daughter's ear, smoothening the blouse of another.
She never went to the meetings, but stood on her veranda, humming gaily while watering two tall potted plants, to ensure she was noticed. She bought a sticker for her Toyota Camry that read Daughters are the future!
One Monday, she returned from her beauty salon to find her daughters dead in their beds, knives in their chests.
Mrs. Fafunwa screamed into the night. Nobody came to her, nobody cried with her. If the street knew who did it, no one would say. When she put the final box in her car and left Alhaji Williams Street for good, not a single neighbor waved goodbye.
"This street is changing o, sister. Hmmmn. It's changing."
Beneath my mother's words, my aunt's knitting needles clicked a rhythm, the colorful thing growing but not yet acquiring a shape I could decipher. I sat at the dining table, reading a news report about a woman in Ipaja who'd birthed a yam. The accompanying photo showed her cradling the tuber in her arms, her head resting against the bedpost, eyes closed.
My mother was horrified by what had befallen Mrs. Fafunwa's daughters, frustrated at the street's silence.
"Leave it, aburo," my aunt said now. "Fi le."
With the needles paused, I looked up to find my aunt watching me. Under the weight of that gaze, I turned back to the photo of the new mother.
Click click, the needles resumed.
The following Friday, my mother sat on the balcony, beading in what little breeze the night might give, while my sister was in her usual spot at the table, pecking at her laptop. I lay on the sofa, staring at the armchair that had been my father's favorite. "Just like your father," my mother would say about my stillness. "Sometimes I wouldn't remember he was around. Doing like a ghost, that man."
The lights went out, and my sister hissed, cursing NEPA. My mother's bowl clattered to the floor.
"Is there fuel for the generator?" My sister was speaking.
I just stared into the darkness. If the lights came back and I was not on the sofa, would it be easier for them?
"Did you hear me? Boy, are you listening?"
I could hear her, but I wasn't listening. I was on a cliff, terrified to look down, lest the blackness reach up to swallow me whole.
I woke the next morning to discover my sister at the foot of my bed, peering over me as if trying to memorize me, scaring me fully alert. She told me to get dressed, that she was taking us to the new amusement park on the expressway. We were having a family day.
My mother had fried chicken wings for the journey, and we hummed along to a station playing songs from the decade before: Tony Tetuila, Eedris Abdulkareem, Daddy Showkey, the works. My mother wore a borrowed cap that looked too young for her wrinkled face. From the back seat, I watched them, imagining that I wasn't there, that the fever had already taken me, that they were alone together, on a long drive, singing and breathing one another's exhalations.
Then 2Face's "Enter the Place" interrupted my premonition, compelling me to return.
At the park, I sat alone on the Twisting Wheel, while my mother waved from below with shaking hands. The whole outing seemed an act of preparation, a test of our readiness. A couple above me was squealing and laughing. My sister swung an arm around our mother's shoulder, drawing her closer. I shut my eyes as we began to move. We went higher and faster. My heart expanded, the sensation like a chicken struggling to break free of my chest.
My salty tears burned my dry, cracked skin.
After Ibrahim of number 23 died, my sister moved back home. She drove her boyfriend's car, commuting hours to work and back in traffic. I quit even pretending to study for the JAMB exam, and instead spent my days listening to all Brymo's songs and changing the order of my favorites, between "Fe Mi," "Alajo Somolu," "1 Pound," and "Prick No Get Shoulder" (which I lowered whenever my mother entered my room). My mother attended to her beadwork. Coral beads, glitter beads; overlapping lines, interwoven lines. She showed us photos of her brides, happy women grinning in traditional ceremonies, powdered necks exhibiting her creations. When night came, we stayed up late, the three of us, watching Africa Magic.
On one of these nights, I emerged from my room to find that my aunt had returned. She stood by the front door, whispering with my mother and sister.
They turned to me, these women who were my family. "We need to talk to you," they said.
There was a way to escape the fever. My aunt knew a man who could take me away. I would be alive, but somewhere else. Inaccessible to them, but alive. Alive, alive. Another boy on the street had escaped, but the man would not say who. A family on Alhaji Williams Street had buried a wrapped bundle of cloth instead of a son.
My mother pressed her ashy harmattan lips into a straight line, and I could tell she felt betrayed—by her neighbors, by the street. Still, she was willing to keep a secret, too. A betrayal for a betrayal.
I lay on my bed, staring up at the fan, deliberating what to take with me, uncertain if I could take anything at all. Round and round and round.
My mother knocked on my door and came in. "Whatever happens," she said, then stopped talking.
"What's the difference?" I asked.
"What, baby?"
"If I die, or if I go away. What's the difference?"
She pushed until I made space for her to lie beside me.
"You'll be alive," she said. "It'll be different for you."
I remained quiet. I couldn't hope, but I could let her.
"Maybe Ozzy was the other one," I suggested, "the other boy who disappeared." After the funeral, his family had left the street to visit his uncle and never returned. A padlock hung from the rusting gate of the abandoned house.
"It's possible. That mother of his was very, very secretive. You know, she never told me where she bought her snails. Ordinary snails, as if telling me would make them less delicious for her. She kept postponing." My mother gripped my sweaty palm. "Maybe she was the smart one here."
My aunt came to tell us it was time to go. I changed my T-shirt, then changed it back. I picked up Brymo's Tabula Rasa, an album Junior had given me, then returned it to my desk. My aunt handed me the sweater she'd been knitting; it smelled of her oud perfume. "In case it's cold," she said.
I hugged my mother, then my sister, then my mother again. My sister whimpered, but my mother remained stoic. She would wait till morning, then give over to her grief, and the neighbors would know that she, too, had lost her son.
When you see the kob antelope on the way to the river—
Leave your arrows in the quiver,
And let the dead depart in peace.
I lay in my aunt's boot, on a blanket to cushion the ride. A blanket and a bottle of water. My sister whispered a heartsick goodbye.
My mother knelt in the gravel that must have been digging into the skin of her knees. She took my hands to her lips. Her eyes were squeezed shut, denying me access—perhaps protecting me from what I would see. She released me only when my aunt lowered the lid. I felt the shutting click in my chest; it was a flattening. The darkness pressed down. I opened my mouth to let the air out.