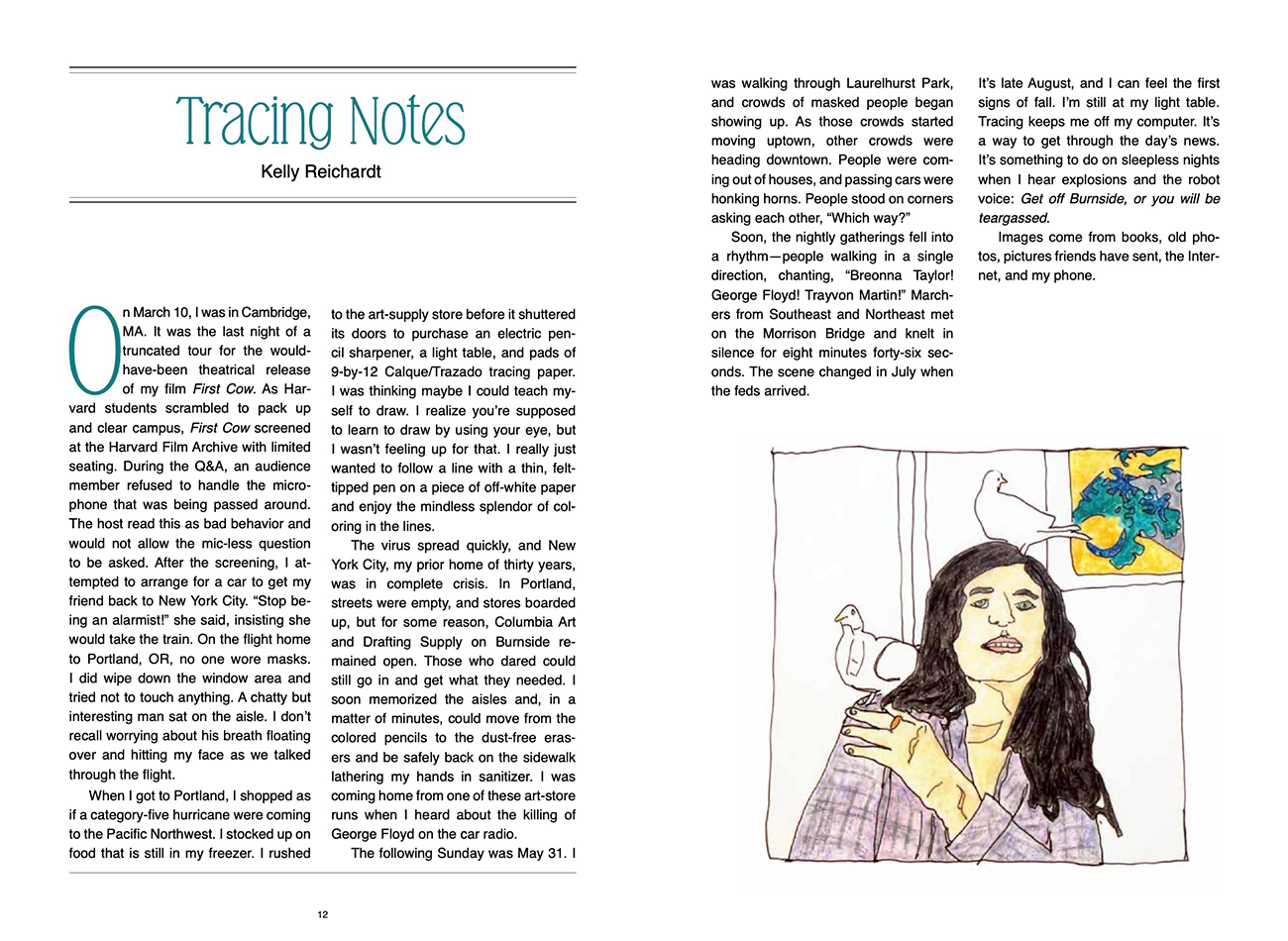 On March 10, I was in Cambridge, MA. It was the last night of a truncated tour for the would-have-been theatrical release of my film First Cow. As Harvard students scrambled to pack up and clear campus, First Cow screened at the Harvard Film Archive with limited seating. During the Q&A, an audience member refused to handle the microphone that was being passed around. The host read this as bad behavior and would not allow the mic-less question to be asked. After the screening, I attempted to arrange for a car to get my friend back to New York City. "Stop being an alarmist!" she said, insisting she would take the train. On the flight home to Portland, OR, no one wore masks. I did wipe down the window area and tried not to touch anything. A chatty but interesting man sat on the aisle. I don't recall worrying about his breath floating over and hitting my face as we talked through the flight.
When I got to Portland, I shopped as if a category-five hurricane were coming to the Pacific Northwest. I stocked up on food that is still in my freezer. I rushed to the art-supply store before it shuttered its doors to purchase an electric pencil sharpener, a light table, and pads of 9-by-12 Calque/Trazado tracing paper. I was thinking maybe I could teach myself to draw. I realize you're supposed to learn to draw by using your eye, but I wasn't feeling up for that. I really just wanted to follow a line with a thin, felt-tipped pen on a piece of off-white paper and enjoy the mindless splendor of coloring in the lines.
The virus spread quickly, and New York City, my prior home of thirty years, was in complete crisis. In Portland, streets were empty, and stores boarded up, but for some reason, Columbia Art and Drafting Supply on Burnside remained open. Those who dared could still go in and get what they needed. I soon memorized the aisles and, in a matter of minutes, could move from the colored pencils to the dust-free erasers and be safely back on the sidewalk
lathering my hands in sanitizer. I was coming home from one of these art-store runs when I heard about the killing of George Floyd on the car radio.
The following Sunday was May 31. I was walking through Laurelhurst Park, and crowds of masked people began showing up. As those crowds started moving uptown, other crowds were heading downtown. People were coming out of houses, and passing cars were honking horns. People stood on corners asking each other, "Which way?"
Soon, the nightly gatherings fell into a rhythm—people walking in a single direction, chanting, "Breonna Taylor! George Floyd! Trayvon Martin!" Marchers from Southeast and Northeast met on the Morrison Bridge and knelt in silence for eight minutes forty-six seconds. The scene changed in July when the feds arrived.

It's late August, and I can feel the first signs of fall. I'm still at my light table. Tracing keeps me off my computer. It's a way to get through the day's news. It's something to do on sleepless nights when I hear explosions and the robot voice: Get off Burnside, or you will be teargassed.
Images come from books, old photos, pictures friends have sent, the Internet, and my phone.