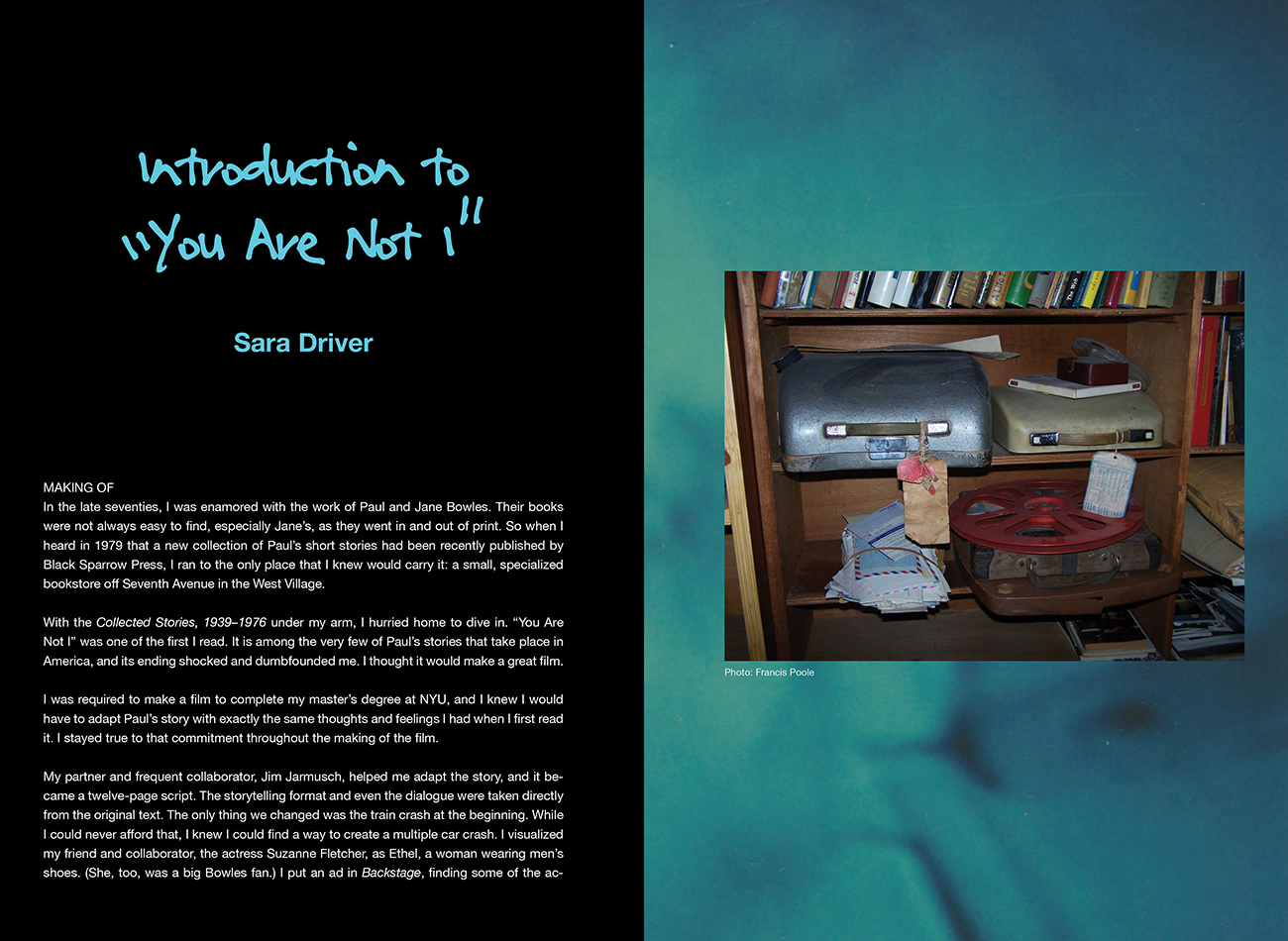 Introduction to "You Are Not I"
MAKING OF
In the late seventies, I was enamored with the work of Paul and Jane Bowles. Their books were not always easy to find, especially Jane's, as they went in and out of print. So when I heard in 1979 that a new collection of Paul's short stories had been recently published by Black Sparrow Press, I ran to the only place that I knew would carry it: a small, specialized bookstore off Seventh Avenue in the West Village.

With the Collected Stories, 1939–1976 under my arm, I hurried home to dive in. "You Are Not I" was one of the first I read. It is among the very few of Paul's stories that take place in America, and its ending shocked and dumbfounded me. I thought it would make a great film.

I was required to make a film to complete my master's degree at NYU, and I knew I would have to adapt Paul's story with exactly the same thoughts and feelings I had when I first read it. I stayed true to that commitment throughout the making of the film.

My partner and frequent collaborator, Jim Jarmusch, helped me adapt the story, and it became a twelve-page script. The storytelling format and even the dialogue were taken directly from the original text. The only thing we changed was the train crash at the beginning. While I could never afford that, I knew I could find a way to create a multiple car crash. I visualized my friend and collaborator, the actress Suzanne Fletcher, as Ethel, a woman wearing men's shoes. (She, too, was a big Bowles fan.) I put an ad in Backstage, finding some of the actors that way. Other characters were played by my close friends: Nan Goldin, Felice Rosser, George Winslow, and Luc Sante—all keen to escape gritty New York City for a few days of shooting.

I had very little money. Not far from my parents' place in New Jersey, I found an off-season house rental near Lake Hopatcong that was cheap to take for the month. Its interior was perfect for Ethel's sister's house. I didn't do any art direction or change a thing.

I learned about a vacant field in nearby Washington, NJ, that the fire department used for instruction. There I met with the fire chief, who said, "You bring the cars, and we'll happily light them on fire for training purposes." (Firemen are unsettlingly enthusiastic when asked to create fires and blow up cars . . .) At the local automobile graveyard, I was able to buy three cars for $50 each, so the entire cost of the accident was $150, plus towing and a keg of beer for the firemen. After the first day of shooting, I got a call from the rival ambulance department. They wanted in, too. That night, I wrote a scene for them.

In advance, I made dinners for the six nights of the shoot. I froze everything and would defrost a meal each morning before heading to that day's location. Everyone slept at my parents' house. One of the last shots in the film is of Ethel's sister sitting in the "Home." It was shot in my childhood bedroom, using only light and shadow to create the necessary illusions.

I had made the film without obtaining the rights to the story but continued to work on it to get my degree, stopping whenever I needed to earn money for editing equipment or the sound mix. One editing space was in the back of a pornography studio in the Film Center Building on Ninth Avenue. My hours were from 11 p.m. to 6 a.m. It was a creepy, scary time in NYC, especially late at night for a woman in her early twenties. (I wrote a scene in my later film Sleepwalk, made in 1986, reflecting my fear whenever the building's elevator stopped on a floor.) I remember inviting a jazz musician friend to the space. He looked at me and then at the Steenbeck editing table and said, "I could get one of those for you really cheap." He knew a guy who'd stolen a bunch of Steenbecks off a truck only the week before. That is how it was in NYC. I declined his offer.

Once I had finished, I realized this was not just a master's thesis project but an actual film. Edited to the odd length of forty-eight minutes, it was neither a feature (over seventy minutes) nor a short (under thirty minutes), as my peers continually reminded me. But, hey, that is what the footage told me to do.

I was concerned about the rights to the story. Jim had worked with Howard Brookner on his Burroughs documentary (an excellent portrait of that lip-twitching, prophetic writer). Thanks to Howard, Jim, and Burroughs, I got Paul's address. Nervously, I wrote to ask him for the rights. He wrote back and told me to ask his agent at William Morris, Ned Leavitt. So I wrote Ned and sent him the film. He projected it and really liked what he saw. He said that had I asked for rights before making the film, he would not have agreed. But now, seeing the film, he granted all rights. He was delighted that someone had finally adapted one of Paul's stories. Robert Aldrich had owned the rights to The Sheltering Sky for many years but never did anything with them. Bernardo Bertolucci—who did go on to make The Sheltering Sky—and I often talked about our mutual love of Paul's work.

The film premiered in 1981; and the same year, a friend offered to take a print to Paul in Tangier and project it for him. I made a brand-new print off the original negative, and that started a wonderful correspondence between Paul and me. His envelopes often arrived decorated with kef-fueled doodles. I was thrilled.

LOST
In 2005 or 2006, I was notified that all elements of the film—negative, internegative, interpositive, prints—had been destroyed by a leak in our storage facility. I was devastated. Jim was the only one who knew about the disaster. I couldn't bear to tell Suzanne—or Nan, Luc, Melody Schneider, or anyone else who had worked so hard on the film. It was too heartbreaking. All that remained were some beat-up VHS tapes and a few stressed 16mm prints that had been screened once too often.

FOUND
In 2009, I got a call from an archivist with Special Collections at the University of Delaware, Francis Poole. He and a colleague, Tim Murray, had just returned from Tangier, where they were collecting manuscripts and other items for the university's Paul Bowles Archive. And on a shelf, under Paul's and Jane's typewriters, Francis had discovered the print of my film that the friend had hand-delivered to Paul in 1981.

Francis had projected the print and found it to be in pristine condition. It just needed cleaning. He laughingly told me that white bug powder—like in Burroughs's novel Naked Lunch—was found on and around the reel's cardboard box, and that may have preserved it. Its survival for almost thirty years in Tangier's heat and humidity was a miracle. Francis and I decided that aiding that miracle was not only the bug powder but the cardboard box, which allowed the film to breathe. Had I been a richer filmmaker, I would have sent it over in an airless metal can. The film would never have lasted.

On the phone, Francis sounded nervous, and I realized he wanted the print for the archive. We made a deal: he could have the print if I could make an HD version of the film and a new internegative off the positive print. Francis introduced me to a wonderful 16mm lab in Maryland, and we worked together on the restoration, with a grant from the association New York Women in Film & Television.

You Are Not I screened in the Masterworks section of the 2011 New York Film Festival; and now, on the fortieth anniversary of its release, it is streaming on the Criterion Channel.